Hollywood pedestrian killed in hit-and-run crash
Molly Smith, Aaron Couch, Stacey Wilson 30 The star-studded event being attended by the show's cast and creators helped raise $1.8 million for charity. Ursula Coyote/AMC [Editor's note: We will be updating the post throughout the evening.] our editor recommends PHOTOS: 'Breaking Bad's' 20 Most Badass Quotes Aaron Paul was on the scene early, and yelled "yeah bitch!" as he drove by in a black car. Paul helped organize the screening, which raised $1.8 million for charity and is expected to be attended by show creator Vince Gilligan and most of the cast, including Bryan Cranston. Though doors weren't open until 6:30 p.m., fans dressed up in hazmat suits and full Heisenberg regalia were lined up at the gate. Some were drinking from beakers, while one fan was spotted handing out "free meth" from a Los Pollos Hermanos bucket. One young woman was dressed up as the infamous pink teddy bear from season two and carrying a sign reading "Have an A1 day." As guests arrived, music that fits the Breaking Bad theme was played, including Roxy Music's "Love Is the Drug" and Huey Lewis and the News' "I Want a New Drug." Just before 7 p.m., Paul officially arrived on the scene in a Vamanos Pest jumpsuit. Around 8:30 p.m., some of the cast — including R.J. Mite — popped out of a black car wearing hazmat suits. Among those spotted in the crowd were Ewan McGregor, Netflix's Ted Sarandos, "Weird Al" Yankovic, Questlove, Bill Hader, Pawn Stars' Rick Harrison, Marilyn Manson and It's Always Sunny in Philadelphia's Glen Howerton, Kaitlin Olsen and husband Rob McElhenney. In the VIP food section, guests were treated to blue donuts and custom cocktails by Bushmills called the Tread Lightly and A Trip to Belize. Tickets for the finale screening sold out in about one minute when they went on sale Sept. 4. Paul organized a contest allowing fans the opportunity to be his guest to the finale, with proceeds benefiting his wife Lauren's anti-bullying nonprofit, The Kind Campaign.
Haunted Hollywood Sports Returns New and Improved for 2013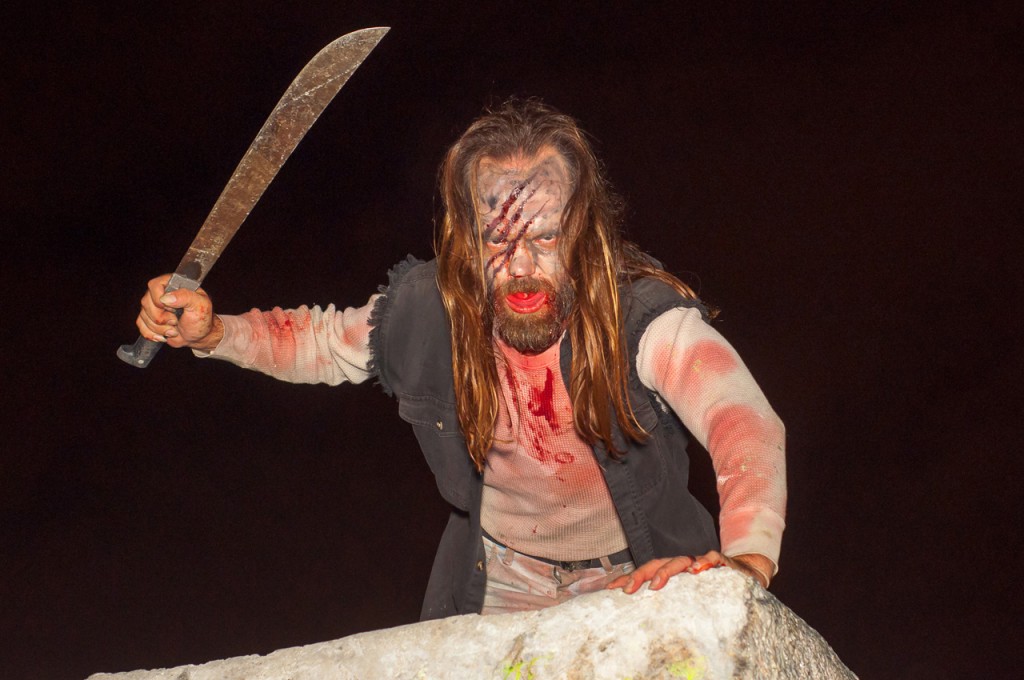 our editor recommends PHOTOS: 'Breaking Bad's' 20 Most Badass Quotes So what's their verdict on the finale? Read what they had to say below. Spoiler alert! The series finale of #BreakingBad was effin' awesome. This show has never been anything less that fantastic. Congrats to all! Paul Feig (@paulfeig) September 30, 2013 Aaaaaaaaaand … here come the waves of depression as I realize there will never be another new episode of Breaking Bad. #GoodbyeBreakingBad Paul Feig (@paulfeig) September 30, 2013 And that right there is how you end a series. #BreakingBad Wil Wheaton (@wilw) September 30, 2013 I can't believe Walt was a woman the whole time. Awesome ending. #BreakingBad Zach Braff (@zachbraff) September 30, 2013 Bryan Cranston is a beast!! #salute !! #BreakingBad Michael B Jordan (@michaelb4jordan) September 30, 2013 Breaking Bad is the best show of all time.
USC fires Lane Kiffin, ending Hollywood story doomed from the beginning
A longtime friend says she went by the name Unique. "That was the first girl I met out here," said friend Andrew Scott. "The good die young." The suspect's vehicle was described as a light-colored older model Ford Thunderbird. L.A. City Councilman Joe Buscaino says there's been an alarming rash of hit-and-run crashes in the Los Angeles area. He proposes offering a standing reward for information leading to the arrest and conviction of drivers who flee the scene of an accident. He believes the reward will encourage witnesses to speak up. "It's time to send a clear signal," Buscaino said. "If you leave the scene of an accident, you are a coward. You are a criminal, and you will be treated as such." L.A. officials are also encouraging state lawmakers to make the penalties for hit-and-runs on par with the penalties for DUI offenses. If you have any information about the Hollywood hit-and-run, you're asked to call the Los Angeles Police Department's Hollywood Division at (213) 485-4302.
Kiffin followed one of the programs most successful coaches in Pete Carroll. He took over a program that was saddled with NCAA sanctions, including a two-year bowl ban and the loss of multiple scholarships. He was given latitude in the first few seasons, but 2012 was suppose to be the year that USC was back on the map. The Trojans were the preseason No. 1 team and many believed USC would be the program that would end the SECs dominance in the BCS. Instead of a Hollywood blockbuster, however, USC turned into a million-dollar flop. The team finished a disappointing 7-6 and much of the season was like a episode of Twin Peaks, with bizarre off-the-field situations, including deflating game balls to gain a competitive advantage and disputes with the media. He repeatedly received dreaded votes of confidence from Haden during the past few months. That confidence quickly eroded after the Trojans suffered one of the worst losses in the programs history Saturday night. Haden had seen enough. It was time to make a change. Kiffin finished with a 28-15 record at USC, but was 10-8 over the last season and a half.
Lets go git them bastards. Let me just say that the killhouse was so much fun! It was an insanely unique experience that almost felt like I had stepped directly into The Walking Dead or The Last of Us. The theme of each killhouse is mainly built around the actors performances and the Voodoo Killhouse had a bit of that Cajun GO GET EM mentality which made for a fun experience. Unfortunately we didnt get much video of the killhouse (since we were holding live BB guns) but I can assure you if you are a haunt fan than this is a must do for those looking for a brand new experience. Carnival of the Damned Since it was only a media preview the entire park was shut down except for this single scare zone, so it felt as if we didnt really witness the Carnival of the Damned in its full glory, but what we did see impressed us all. A team of high energy committed monsters who were going all out. Theres not much to say other than that, in fact ill let the video below do all the talking. Great job clowns, you really killed it! The official description goes as followed. The show has just started and these clowns and circus freaks running this dark bit top are always looking for a few new recruits to join their demented ranks. These clowns may have smiles on their facesbut its only to hide their twisted true intentions once you are within reach! Final thoughts on preview?