"We have also met Manmohan Singh asking him to put pressure on France for justice to be done," he said, referring to the Indian prime minister who is also Sikh. Singh added: "Our children are dropping out from school or being expelled for keeping the faith. The cross, the veil and the kippa are not mandatory and are symbols. But the kesh (long hair) and the pagri (turban) are non-negotiable. They are not symbols but a sacred, inherent and intrinsic part of our religion." Ten students have been expelled since the law on secularity in schools came into force in 2004, according to official records. But the true number of children affected is much higher since many Sikhs have opted for private schools or home learning rather than give up the turban, said Ranjit Singh, a community spokesman who liaises with the government. "Also many Sikh families are ashamed of the fact that their children have been expelled and do not tell us so there are no complete records," Kashmir Singh added. Ranjit Singh was one of the first Sikh boys to be expelled from his lycee, or high school, after the 2004 law. That left deep scars but he has moved on since and is currently pursuing a doctorate at the prestigious Sorbonne university in Paris. "I opted for the liberal professions because I then decided I would work for myself as I was sceptical about getting a job that would allow me to keep my turban," he said. Sikhism was founded five centuries ago in the Indian subcontinent and its cornerstones are the principles of equality and fraternity. It was a reaction to the Hindu caste system and the prevailing Islamic perception and treatment of non-believers as "infidels".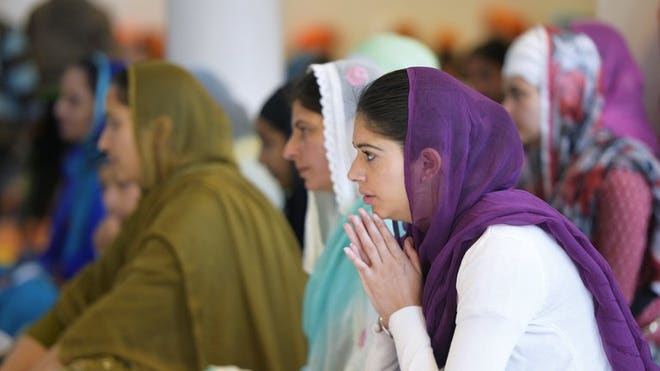 "For it to be acceptable to France … the resolution should foresee that measures under Chapter 7 are taken if Syria does not comply with its commitments in line with the Geneva agreement," Fabius said. He added the resolution should also call for those behind the chemical attack to face justice. PUTIN'S WARNING Ahead of the General Assembly, Russian President Vladimir Putin issued a fresh warning of spillover from the Syrian civil war. In the Russian Black Sea resort city of Sochi, he told former Soviet allies that Islamist militancy fueling the war in Syria could reach their countries, some of which have Muslim majorities. Russia, which has a large Muslim minority of its own and is fighting an Islamist insurgency, has accused the West of helping militants by seeking Assad's removal without paying enough attention to the potential consequences. Putin told leaders of the six-nation Collective Security Treaty Organization (CSTO) that militants fighting Assad could eventually expand attacks beyond Syria and the Middle East. "The militant groups (in Syria) did not come out of nowhere, and they will not vanish into thin air," Putin said. "The problem of terrorism spilling from one country to another is absolutely real and could directly affect the interests of any one of our countries," he said, citing the deadly attack on a shopping mall in Nairobi as an example. Meanwhile, the leader of Lebanon-based Hezbollah, which has backed Assad in the civil war in neighboring Syria and has sent troops across the border to fight on the government's side, on Monday denied the group had received chemical weapons from Syria. Members of the Istanbul-based opposition Syrian National Coalition have accused Assad's government of transferring chemical weapons to Hezbollah to escape inspection. "This accusation is truly laughable," Hezbollah leader Sayyed Hassan Nasrallah said in a televised speech. "We understand the dimensions and background of these accusations, and these have dangerous consequences for Lebanon." In an interview with China's state television, CCTV, Assad criticized the United States for threatening to attack Syria, saying it was finding "excuses for war." The violence continued in Syria.
France steadies NASCAR during credibility crisis
"They were pretty well set on their decision, and we elected to accept the penalties and try to move forward," Waltrip said. It's impossible for France to not have similarities to his father, who had zero tolerance for anyone who messed with his show. "In our family, the way everything works, you grow up around the dinner table, so he was getting a pretty good education from Bill when he was very young," said Jim France, Bill's brother and the current executive vice president of NASCAR. But Brian's vision often differed from his father's in that France thought bigger and broader from an early age. His first big coup came before he was chairman in a move that helped NASCAR take the final step away from a regional niche sport. France ended the practice of individual tracks negotiating their own television deals with NASCAR's first national TV package in 1999. The deal with NBC Sports, Turner Sports, FOX and FX cable tripled the number of Cup races shown on broadcast television when the contract began in 2001. "Part of the evolution of being a regional sport and becoming national, getting international recognition, you have to elevate your game, and those are things Brian recognized from the very beginning," Jim France said. "He's done a masterful job of shepherding NASCAR through the changes. I don't think there is another motorsports organization in the world that has all of the disciplines that NASCAR has, and a lot of them started before Brian took over the role from Bill, they were things he was working on before his current role." Although racing is his business, France is a sports fan at his core. "I'm the biggest sports fan in the company," he boasts, and claimed it wouldn't be unusual to find him at a high school football game, professional tennis match or college basketball game. He cites Duke basketball as his favorite team, "I admire their coach immensely," and has often been linked to so far unfounded rumors of interest in purchasing an NFL franchise. But it's that passion for sports that can be found all over his decade as chairman of NASCAR. France doesn't look at his sport as an auto racing series when he makes strategic decisions, instead he considers the big four professional leagues. It's how NASCAR ended up with the Chase format in 2004.