Credit: Reuters/Chris Ratcliffe/pool By Neil Maidment LONDON | Thu Sep 26, 2013 4:26pm BST LONDON (Reuters) – G4S, the world's biggest security firm, will team up with French group Oberthur Technologies to bid for a 1 billion pound ($1.61 billion) contract to supply Britain's next wave of banknotes, a source familiar with the situation said. The Bank of England has invited bids for a new 10-year contract to produce all its banknotes, which for the first time could come in plastic form if the plans are given public backing in December. A source told Reuters that G4S, the group that drew fierce criticism last year for failing to provide enough security guards for the London Olympics, would provide services like cash handling and security alongside Oberthur's printing expertise. G4S, which as well as cash transportation for banks and retailers runs services like prisons and immigration centres in some 125 countries, declined to comment. Smartcard maker Oberthur could not be reached for comment and the Bank would not comment on the bid process. The contract is due to start in April 2015 and includes the option of a three-year extension. British firm De La Rue, which has held the contract since 2003, is rebidding for the contract. Media reports have said other bidders could include Munich-based Giesecke & Devrient, Landqart – the bank note division of Canadian firm Fortress Paper, and UK-based Innovia Security. The BoE has issued paper banknotes ever since the central bank was created in 1694 as a way of raising money for King William III's war against France but is now keen to go plastic. Polymer banknotes, as well as being hard to fake, are durable and stay cleaner for longer because the material is more resistant to dirt and moisture, the BoE have said. De La Rue entered the polymer market earlier this year with deals to supply Fiji and Mauritius. Led by new boss Ashley Almanza G4S is embarking on a turnaround plan after a string of blunders by his predecessor Nick Buckles, including a failed takeover bid in 2011, the botched London 2012 contract and a profit warning in May. In August it raised 348 million pounds through a share sale and earmarked more cash to come from asset disposals, as it seeks to cut debt and increase its focus on emerging markets growth. (Editing by Kate Holton and David Evans)
France: Record number of forced evictions
The colorful bags weren't registered to any of the passengers on the plane. When French officials opened them up, they discovered why — 1.3 tons of pure cocaine were stuffed inside the anonymous bags. The street value of the stash? About 200 million euros, or $270 million. Coast Guard makes $20 million cocaine bust Huge drug bust off the coast of Florida Drug busts at sea: 4 tons of cocaine The catch was made on September 11, but French authorities didn't publicize the find until Saturday. On Sunday, Venezuela's Public Ministry said that authorities had detained three members of the National Guard in connection with the incident. It wasn't immediately clear exactly what they are accused of doing. The suitcases came from Caracas aboard an Air France flight to Paris, but did not match any of the passengers on board, CNN affiliate BFMTV reported. "Several" people have been taken in custody, French Interior Minister Manuel Valls told reporters Saturday. Authorities worked with Spanish, British and Dutch police on the investigation, BFMTV said. This case "illustrates the importance of strengthening International cooperation in the fight against traffickers," Valls said.
$270 million worth of cocaine found on Air France flight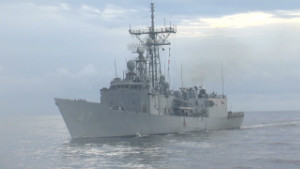 Source: John Dalhuisen, Europe and Central Asia Programme Director at Amnesty International. The French government has failed to end the vicious circle of repeated forced evictions of Roma which have now reached record numbers, Amnesty International said in a report published today. The organization is calling for a ban on all forced evictions.. More than 10,000 Roma were evicted from informal settlements during the first half of 2013. France makes no provisions for effective protection against forced evictions. In most cases they take place in a climate of hostility with no alternative housing proposed. Roma people are condemned to a life of constant insecurity, and forced to wander from one of makeshift camp to another. Forced evictions should be banned in law, said John Dalhuisen, Europe and Central Asia Programme Director at Amnesty International. There are some 20,000 Roma migrants living in France mostly from Romania, Bulgaria and former Yugoslavia. Almost all of them are fleeing the chronic poverty and discrimination they face in their home countries. When President Francois Hollande came to power last year, he promised a change in tone and policy regarding Roma but there has been little change on the ground. In August 2012, the government issued guidelines on steps to be taken prior to and during evictions. It also set up an inter-ministerial commission to coordinate policies. The new measures are not intended to stop forced evictions and fall short of international human rights standards. The guidelines are discretionary and inconsistently applied.