Sometimes, it's a question of outright censorship. For instance, all of Chow Yun-Fat's scenes in Pirates of the Caribbean: At World's End were cut because Chinese censors considered his pirate character an offensive ethnic caricature. Chinese censors also found offensive all the Chinese-American characters who were secretly alien invaders in Men in Black 3 , so they ended up on the cutting-room floor. The funniest example is the recent Titanic 3D , which cropped out Kate Winslet's famous nude scene out of fear that the 3D effects might inspire moviegoers to reach out and try to cop a feel. Sometimes it's adding scenes, as in Iron Man 3 , whose Chinese prints include spliced-in scenes of popular Chinese actor Wang Xueqi as a doctor who helps Robert Downey Jr.'s Tony Stark. He's also shown drinking the Yili brand of milk, in a blatant scene of product placement . The scenes were so superfluous that even Chinese audiences practically hooted them off the screen. And then there are movies that undergo more fundamental content changes for releases in all countries in order to please China. Wonder why the Mandarin in Iron Man 3 wasn't Mandarin at all ? Or why the martial art practiced in the recent Karate Kid remake wasn't karate at all but kung fu, with the movie set not in America but in Beijing? Or why the villainous invaders in Olympus Has Fallen or the recent remake of Red Dawn were North Koreans instead of the more plausible Chinese? The studios behind those films wanted to make sure they made the cut and were among the just 34 foreign movies permitted for import into China each year. What Are the Most Egregious Product Placements in Movie & TV History?
Johnson and White say they were on their way to Myrtle Beach for a quick romantic getaway when they pulled off the rural highway and parked by a cotton field. Johnson said she had never seen cotton before and told White she wanted to take a picture. As the couple walked back to the car, they said, they noticed a police car with its lights on parked behind theirs. White and Johnson, who are both African-American, say the white officer harshly questioned them about drugs — he found none — and the cash he found in their bags. Johnson was the national cheer representative for the Just Say No to Drugs campaign in the '80s. According to White's account, Officer Shad Barfield told Johnson there was a warrant for her arrest, which she disputed, and the officer later recanted. He handcuffed White and then Johnson but did not arrest them. "After he told me that I did not have a warrant for my arrest, and he started asking me about drugs for the third time, I said, 'Are you doing this because we're black?'" Johnson told HLN. "And that was when everything took a turn for the worst. He patted the car, he walked back to his car, he put on gloves. The next thing I knew, he was handcuffing Dennis." "He told me … I was being detained for his safety because he didn't know me," Johnson said. "At this time I became distraught," White wrote in his account of the incident.
Hollywood couple stopped by police, say they were racially profiled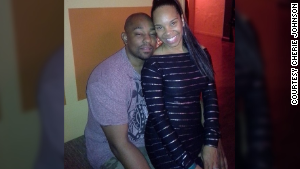 "It's an embarrassment to the profession and the city." Just six short weeks ago, Fernandez took on what may be the most ambitious task in his career turning around a troubled Police Department rocked by a series of high-profile scandals. When Fernandez became chief in mid-August, he says he ordered an audit of the entire department. He recognizes he's inherited an agency with "an interesting history," marred by scandals that have made national headlines. A former deputy chief in Miami hired more than a year ago as Hollywood's assistant city manager, Fernandez says his mission is to change the department's culture and reputation by recruiting only the best and training them well. Last month, two members of the command staff were relieved of duty with pay after being placed under investigation by the State Attorney's Office. An internal audit ordered by the chief raised questions about whether they altered or destroyed Internal Affairs reports required to be kept for public record under state law. Attorneys for Assistant Chief Ken Haberland and Maj. Norris Redding say their clients did not do what they have been accused of and will be cleared in the end. In 2010, five employees were fired after doctoring an accident report to protect the officer who caused the crash. A recording captured them coming up with a "Walt Disney" story involving a cat jumping out of a car. In 2007, former chief James Scarberry left in disgrace after four Hollywood cops were convicted of escorting stolen diamonds, artwork and heroin for undercover FBI agents posing as mobsters. The FBI was forced to cut short its investigation when word leaked out about the two-year probe, leaving questions about whether some dirty cops were saved by the leak. City Manager Cathy Swanson-Rivenbark says she hired Fernandez because of his long career in law enforcement and his connections to the FBI and U.S. Department of Justice. Fernandez retired from the Miami Police Department in January 2010 after a 25-year career.
New Hollywood police chief pushes change
Forget the fact that she emerged as the second-youngest Best Actress winner of an Academy Award (Silver Linings Playbook, 2012), and the highest-grossing action heroine of all time (The Hunger Games, 2012) in the same year, at only age 23. She's "fat," and she'll risk losing future opportunities if she doesn't first "lose a certain amount of weight." Um, right. "It was just the kind of shit that actresses have to go through," Jennifer said — that is, the shit of an industry that's exceptional at finding fault where there is none. "They brought in pictures of me where I was basically naked, and told me to use them as motivation for my diet," she added. In reality, it's early in JLaw's career, and "the most talented young actress in America," according to Rolling Stone, has as much professional success as she has men drooling over her — without having to diet — not to mention all the women who look up to her and want to be her BFF. Truth is, she looks like a woman who's conscious of her health and feels good in her own skin. Look at her! Exactly where could she shed the pounds? Her face is filled with color and she carries herself with a confidence that rises well above Hollywood's weight obession. She is a mega babe! "If anybody even tries to whisper the word 'diet,' I'm like, 'You can go fuck yourself,'" she summed up. That's the vibrant, foulmouthed warrior we know and love. Better than beautiful, Jennifer is realistic in both image and attitude.